Stay up to date with the current prices of tradable cryptocurrencies through BISON.
Cryptocurrencies in a nutshell
Bitcoin (BTC)
Bitcoin was released in 2009, making it the first and most significant cryptocurrency. It was invented by "Satoshi Nakamoto", whose real identity is unknown. Bitcoin consists of a monetary unit and a payment system. The digital currency (BTC) is created and managed in a global, decentralised computer network using a special software solution. The global system is like a decentralised database in which all transactions are logged in the form of a blockchain. Bitcoin attracted worldwide attention when it increased in value in 2017.
Ethereum (ETH)
Ether (ETH) is the internal payment system for processing transactions for the global platform Ethereum. The Ethereum platform is used for distributed apps and facilitates the creation, execution, and management of smart contracts.
Litecoin (LTC)
Litecoin (LTC) is a global and decentralised payment network similar to the Bitcoin network. The essential differences between Litecoin and Bitcoin are in their technology. Key aspects are the transaction speed, the maximum offering of the coins concerned and the algorithm used.
Ripple (XRP)
Ripple (XRP) is an open-source protocol based on a public database. The Ripple network supports all standard currencies. XRP appeared in 2012 and, unlike Bitcoin, is not based on the blockchain and the coin cannot be mined.
Bitcoin Cash (BCH)
Bitcoin Cash was created from the original Bitcoin blockchain by a hard fork (a community-activated protocol or code update) in August 2017. The goal of the fork was to increase the block size and thereby significantly reduce the transaction throughput (number of transactions processed per time). More informationen: https://www.bitcoincash.org
Always keep an eye on the prices
Keep track of the prices of the tradable cryptocurrencies and always stay up to date on what's going on in the crypto world. Get the app now!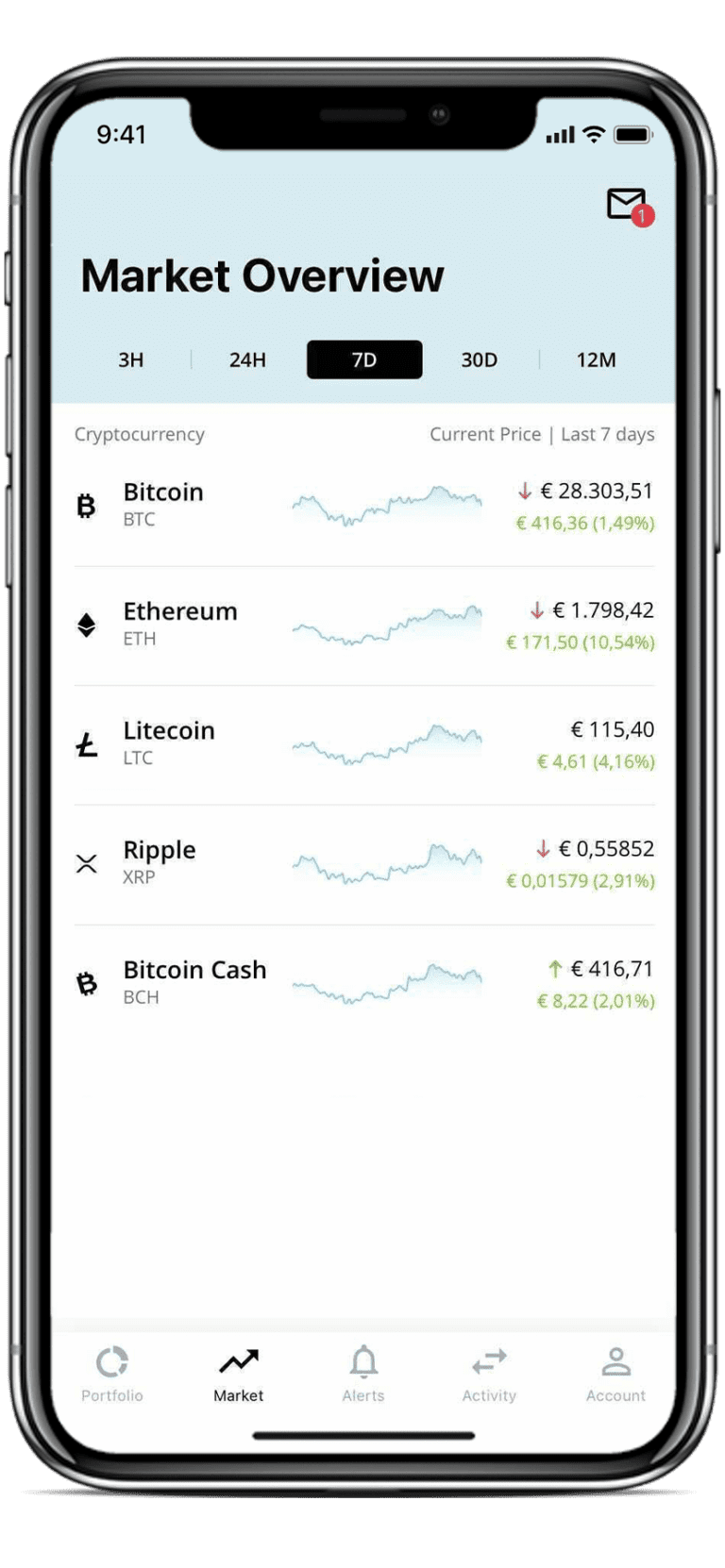 Known from TV and from press