With Chainlink (LINK), you're investing your money in an extremely exciting crypto project. This network offers its own coin, LINK, that you can now buy via BISON. Start trading with this innovative cryptocurrency and track its price easily, right in the BISON app.
Chainlink (LINK) is causing quite a buzz in the world of cryptocurrencies. Smart contracts play a key role in this, offering many advantages compared to traditional contracts, such as automatically checking compliance with contract terms. While these contracts truly are quite smart, they also have a significant drawback: They're unable to access information that is not on the chain. Chainlink offers a solution to this problem and, as a result, has become quite the hot topic among crypto experts. You now have the opportunity to trade Chainlink (LINK) using the wide range of services that BISON provides. Get involved with one of today's most interesting crypto projects, monitor its price trends, and get involved in trading. Now is the right time to invest in Chainlink.
An overview of all the key features and characteristics of Chainlink (LINK):
Strong network: Chainlink is built on Ethereum, one of the largest crypto networks in the world with excellent security standards.
Limited Coin: The number of coins is limited for Chainlink, meaning that arbitrary multiplication and devaluation is not possible.
Tangible benefits of this technology: Chainlink brings information from the outside world onto the chain. This is a concrete benefit that makes this network worthwhile to engage with.
Diversification: Use Chainlink (LINK) to diversify your money more broadly across cryptocurrencies.
Decentralized solution: Because Chainlink is built on Ethereum (ETH), it is decentralized. Meaning there is no central authority controlling Chainlink and you can trade at any time, even on weekends – essentially, whenever you want.
BISON takes away the complicated processes
BISON is simple and intuitive – you don't need a wallet, a deposit etc., and you don't have to deal with any tedious paperwork. There are no complicated technical barriers or processes. All you need is the BISON app and you are ready to go!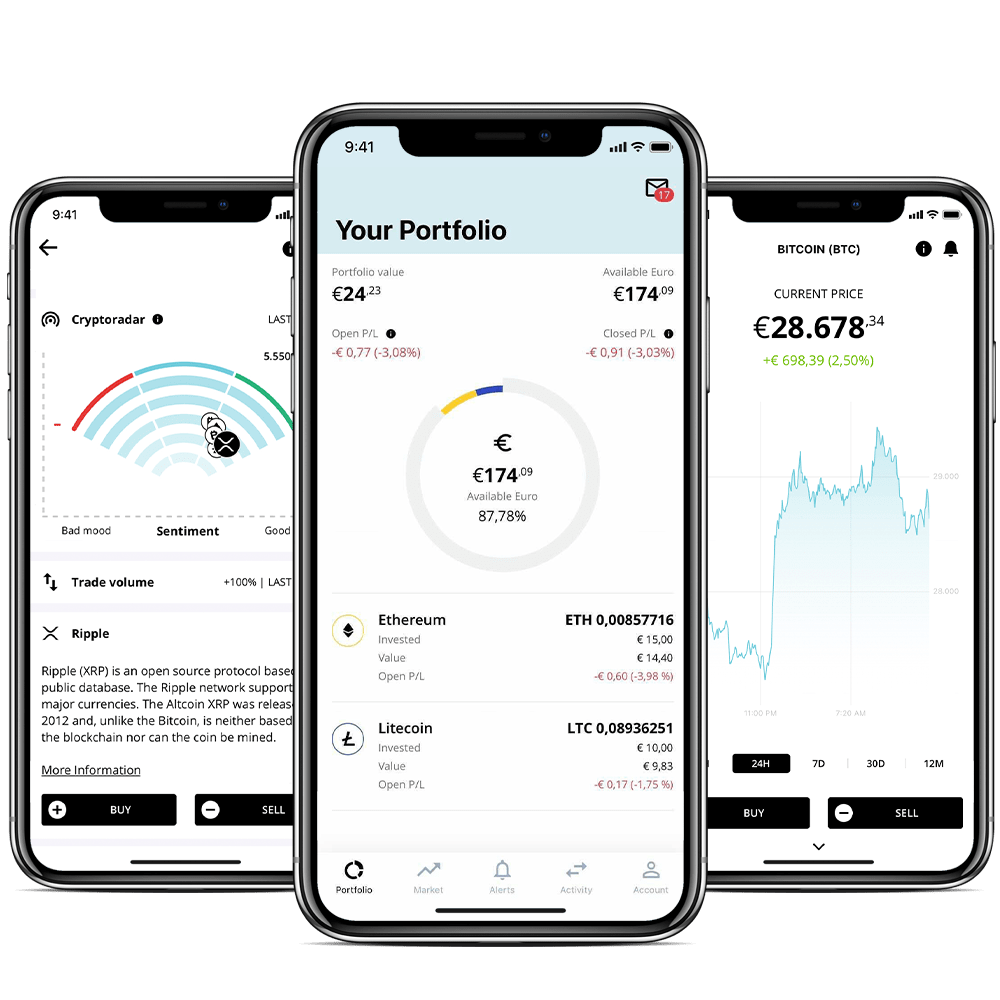 1. Buying Chainlink (LINK) with BISON
BISON offers you – a trader and investor – all the necessary tools to start trading with Chainlink (LINK) in a way that is both simple and straightforward. If you'd like to buy and sell cryptocurrencies like Chainlink (LINK) from the comfort of your smartphone, the BISON app is exactly what you need.
It doesn't matter where you are or the time of day you'd like to trade. There are no designated trading days for cryptocurrencies; trading via BISON is always possible, even at night and on weekends. This is the advantage that decentralized markets have over trading stocks or bonds. You get to decide when you want to invest in cryptocurrencies or when it's time to sell.
BISON provides you with the technical foundation to focus on your trades. The BISON app is available for both iOS and Android. Just install the app on your smartphone or tablet and get started.
With BISON, you have access to a service that is made in Germany and backed by the Stuttgart Stock Exchange, a respected financial exchange. You're able to select from popular cryptocurrencies that best suit your trading needs and invest your capital. BISON also provides you with various features that support you in your investment decisions.
One of the many benefits of this service is the BISON Sentiment. This BISON tool gives you an overview of the crypto market sentiment. It shows you which cryptocurrencies are currently trending, so you'll know whether Chainlink (LINK) is among them. The Sentiment does not tell you whether to buy or sell, but it does provide you with another source of information to guide you in making informed trading decisions.
When it comes to the BISON app and all of our features and services, we focus on making things simple for you to use. With BISON you don't need a wallet – you're able to follow the price fluctuations of cryptocurrencies like Chainlink (LINK) in a very simple and easy-to-navigate way. BISON is powered by the Stuttgart Stock Exchange and provides you and the general public access to cryptocurrencies.
2. Chainlink (LINK) vs. Bitcoin (BTC) – what's the difference?
Chainlink (LINK) and Bitcoin (BTC) differ in a few key ways, but the similarities are also worth noting. Both currencies are cryptocurrencies and therefore digital assets. An important difference between them is that the two tokens are each based on different networks. Bitcoin (BTC) runs on the Bitcoin blockchain, whereas Chainlink (LINK) is based on Ethereum – Ethereum and Bitcoin are competing networks. At their core, Bitcoin transactions are heavily reduced smart contracts, while Chainlink helps incorporate external data onto smart contracts. 
So who might benefit from investing? Trading both Chainlink (LINK) and Bitcoin (BTC) will be of interest to you if you want to invest your capital in tokens from different blockchains for broader diversification.
BISON makes it easy for you to trade the cryptocurrency you want and doesn't even charge transaction fees. You can open an account with us without paying anything. Just quickly confirm your identity and make a deposit of your desired funds.
The same applies to the safekeeping of your cryptocurrencies, as well as to deposits and withdrawals. At no point do we charge you a fee. We are remunerated by a proportional spread on purchases and sales. The extent of this spread depends, for example, on current market conditions and the volume of transactions. With us, you'll always benefit from fair and competitive pricing.
No matter what cryptocurrency you might be most enthusiastic about at the moment, you can trade it now at BISON. Our app gives you access to several trendy and popular coins. Aside from Chainlink (LINK) and Bitcoin (BTC), you'll find many other cryptocurrencies, such as Ripple (XRP), Ethereum (ETH), Litecoin (LTC), or Bitcoin Cash (BCH). The advantage we hold over other platforms lies in the simplicity and diversity of our trading process.
3. Is Chainlink (LINK) limited?
The number of tokens for Chainlink is, in fact, limited. The total supply is one billion LINK. From this, you can distinguish the number of tokens that are currently actually in circulation – which is 450,000,000 as of September 2021.
Regardless of what your motivations are for trading LINK: BISON will make it possible with a simple and reliable in-app service packed with a plethora of helpful features. This includes the fact that you don't have to set up a wallet or need a traditional custodial account like you do with stocks. You also don't have to deal with paperwork to start trading cryptocurrencies like Chainlink (LINK). At BISON, there are neither technical hurdles that prevent you from trading nor complicated processes that keep you from achieving your goals.
4. What can I buy with Chainlink (LINK)?
The primary purpose of these tokens is to pay the network's node operators who help link smart contracts to external data. The node operators can also use the tokens to make deposits when the smart contracts' creators require them to do so. You can essentially always buy and sell Chainlink (LINK) through BISON – you can resell your coins at any time and have money available for new investments and trades.
Already know what you want to do with your Chainlink (LINK)? With BISON, powered by the Stuttgart Stock Exchange, you can get started right away. Thanks to the BISON app and its handy tools, you can focus on the essentials – buying and selling Chainlink (LINK). For the first time, BISON provides a service that's backed by a traditional stock exchange. Keep track of your trades through BISON and provide yourself with all the information you need for making investment decisions. BISON is your easy gateway into the world of cryptocurrencies.