With Uniswap (UNI), you get the opportunity to trade on the largest decentralized crypto exchange in the world. Everything is done on a technical level based on the widely known Ethereum blockchain. If you want to buy Uniswap and keep an eye on the current Uniswap (UNI) price, BISON – powered by Stuttgart Stock Exchange – now offers you the opportunity to do so.
When you buy or sell Uniswap (UNI), you are opting to trade token pairs on a network based on smart contracts and a decentralized architecture. The hallmark of Uniswap are the swap transactions that are possible on this trading platform. It allows you to swap different tokens mapped in pairs, or to put your money into the liquidity pool. Alternatively, you can simply buy the coin and partake in its price development. Here, you'll learn just how easy it is to trade Uniswap (UNI) via BISON.
An overview of all the important features and characteristics of Uniswap (UNI):
Strong network: Uniswap (UNI) is based on Ethereum, which is one of the most well-established crypto networks in the world.
Limited coin: Uniswap (UNI) is a coin of which only a certain amount is in circulation. The coins available are therefore highly sought-after.
Low entry price: Uniswap's price is significantly below Bitcoin's level, which opens up entry opportunities.
Tradable at any time: Unlike shares on the stock exchange, you can trade Uniswap (UNI) at any time, even on weekends.
BISON takes away the complicated processes
BISON is simple and intuitive – you don't need a wallet, a deposit etc., and you don't have to deal with any tedious paperwork. There are no complicated technical barriers or processes. All you need is the BISON app and you are ready to go!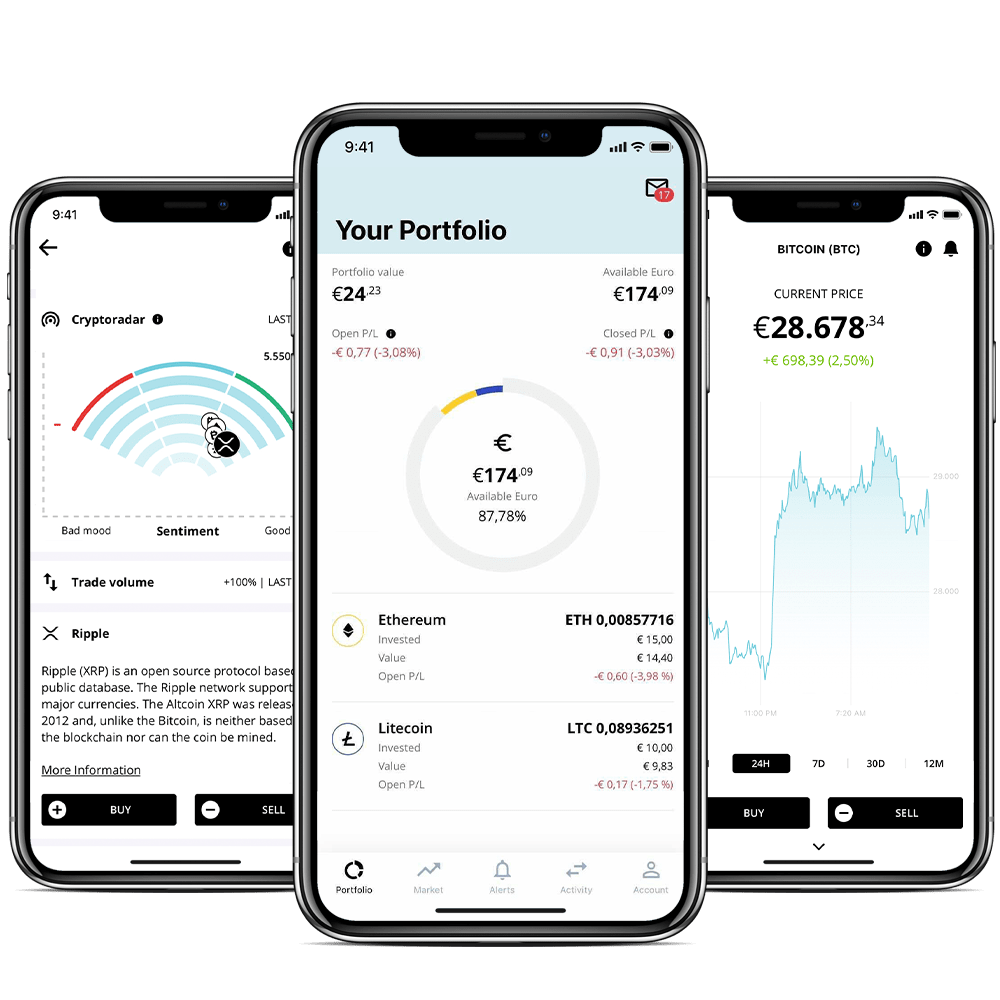 1. Buying Uniswap (UNI) with BISON
BISON offers you everything you need to start trading with Uniswap (UNI). If, for example, you're interested in making transactions on the go, the BISON app is all you need. It can be downloaded from Google's Android and Apple's iOS app stores. To use it, simply install the app on your smartphone or tablet.
To buy Uniswap (UNI), you need real money. This requires going through a verification process and then making a deposit. The advantage: Opening an account and performing transactions for buying and selling cryptocurrencies are free of charge at BISON. Here, you execute whatever orders you want without having to worry about fees.
A major perk with BISON is that you can start trading right away. With Uniswap, it is actually required to link your own wallet before you can start buying and selling. With BISON, on the other hand, you don't need a wallet or a traditional custody account, nor do you have to fulfill any other formalities. Having access to BISON, such as via the BISON app, is sufficient.
BISON is "Made in Germany" and relies on a multi-level security concept. This provides you with certain benefits regarding the safekeeping of your cryptocurrencies. One special aspect is that BISON is the first trading solution on the market that is backed by a traditional stock exchange – the Stuttgart Stock Exchange.
BISON is a trading platform for cryptocurrencies that focuses on simplicity when it comes to user operation. The app interface presents itself in a clear and simple way, keeping important information such as price trends readily available for the investor. All of this serves to help you make informed decisions about your trades with Uniswap (UNI).
2. Uniswap (UNI) vs. Bitcoin (BTC) – what's the difference?
Uniswap (UNI) and Bitcoin (BTC) have a few striking differences. Although both offer you the same opportunity to invest in cryptocurrencies, the coins have nothing to do with each other and the technical and general requirements of the two cryptocurrencies are very different. Their prices also differ significantly from each other and thus offer you, as an investor, your own opportunities for trading.
Bitcoin (BTC) has also been on the market for much longer. The cryptocurrency was already public in January 2009, while Uniswap (UNI) is much younger and has only been tradable since 2020. Bitcoin (BTC) is thus one of the oldest cryptocurrencies, while Uniswap (UNI) is one of the youngest. This says nothing about the quality of these currencies, but Uniswap (UNI) has not had as long a time as Bitcoin (BTC) to assemble such a strong and large community behind it.
Their exchange rates also present completely different pictures. It is currently much cheaper to buy a single Uniswap (UNI) than it is to buy a Bitcoin (BTC). The Bitcoin (BTC) ranges roughly between 35,000 and 40,000 EUR (as of July and August 2021). So, buying a single Bitcoin (BTC) entails a significant investment. The situation is different with Uniswap (UNI). Here, you can buy a single coin for just under 25 EUR (as of August 2021). This allows you to buy several coins at once, even with little money. This is much more difficult with Bitcoin.
3. Is Uniswap (UNI) limited?
It is always interesting for cryptocurrency users to know how many coins are in circulation and whether a currency is limited. Of course, it is no different with Uniswap (UNI). The total supply of what are known as governance tokens is about one billion units. Governance tokens are a common type of construct for cryptocurrencies and they come with special rights. For example, they offer their platform the opportunity to involve users in decision-making processes. If changes regarding a protocol are pending, users can vote on them.
Looking at the distribution of tokens is also quite interesting. The Uniswap community, and thus its users, hold 60 percent of all tokens, while investors hold a share of 17.8 percent. Another 21.51 percent goes to team members. Furthermore, consultants of the network hold another 0.60 percent of the tokens.
This makes it clear that Uniswap (UNI) is, indeed, currently limited. However, things will not stay that way. The plan is that the stock originally made available will have a term of four years. After that, the network plans to introduce an inflation rate, which will essentially be unlimited. This is to be set at two percent. This is intended to ensure that participation in Uniswap is also possible in the future, or that the high level of participation can be maintained.
4. What can I buy with Uniswap (UNI)?
When you buy cryptocurrencies, you not only make an investment, but also receive a real means of payment. However, unlike legal tender, not every seller necessarily accepts every cryptocurrency for their goods and services. So you need to take a very close look at what you can buy with Uniswap (UNI), as well as your coins in general.
With Uniswap (UNI), the situation is a bit more complicated. This is because the platform doesn't just offer you your own token, but also enables swap transactions, where you exchange one token for another. For example, if you want to swap certain tokens for Ethereum, then the question arises as to what you can buy with the Ethereum coin. Uniswap makes very versatile exchanges of this kind possible. Hence, the question of what you can buy with Uniswap (UNI) is not so easy to answer.
On Uniswap, you trade a variety of ERC-20 tokens. These include Ethereum, Aragon, Chainlink, and Tether, to name a few. ERC-20 is the standard for creating tokens that are based on the Ethereum blockchain.
As with any investment in cryptocurrencies, or even stocks, prices fluctuate. Since Uniswap (UNI) is a constant subject of speculation, strong price movements cannot be ruled out. Of course, this also ultimately influences what you can buy with Uniswap (UNI).