As of now, two new cryptocurrencies can be bought and sold in the BISON app: Chainlink (LINK) and Uniswap (UNI). They are among the top 15 cryptocurrencies worldwide. LINK and UNI add to the BISON app's current portfolio of five tradable coins:Bitcoin (BTC), Ethereum (ETH), Litecoin (LTC), XRP (XRP) und Bitcoin Cash (BHC).


In this blog post, we'll introduce you to the UNI token, as well as the Uniswap platform behind it, in more detail.
Uniswap is a decentralized trading platform for various crypto tokens that is based on open-source software and aims to provide automated trading for crypto tokens. It was launched in 2018 by Ethereum developer Hayden Adams. Uniswap's network already includes over 200 DeFi integrations. UNI is also referred to as a governance token, as it serves to secure and manage the Uniswap protocol. Holders of UNI tokens are able to exercise decentralized governance in deciding the future of the project.

Transactions via Uniswap work without any intermediaries and thus accelerate the trading of cryptocurrencies. For this purpose, different liquidity pools exist, which are defined via smart contracts. In addition, an algorithm automatically determines the exchange rate between the currencies depending on the liquidity dynamics. This means that there is no need to use order books to determine the price based on supply and demand, as is necessary with other platforms.
The UNI cryptocurrency is an ERC-20 token from the Uniswap decentralized trading platform and has been on the market since September 2020. The relatively young token is based on one of the most fundamental token standards of the Ethereum blockchain. By defining specific token metrics and behaviors, it allows for the creation of inherently standardized tokens. ERC-20 also causes a smart contract to be uniformly executed on the ETH blockchain and ensures interoperability among smart contracts.

1 billion UNI has been generated and is set to be distributed within four years. There was a lot of hype around the launch of this crypto token – its trading volume of $386 billion and a total of over 61 million transactions also speak for themselves. UNI's current all-time high is just over 38 EUR, which was reached in May 2021.
What Are Liquidity Pools?
Only ERC-20 tokens and ETH can be exchanged on the Uniswap platform. This works via what are known as liquidity pools, which contain cryptocurrencies and tokens. Token providers must deposit their cryptocurrencies in the pool. If, for example, someone wants to buy a token from the pool, he or she must pay for it with a specific coin. Smart contracts on the Ethereum blockchain define the possible trading partners and process the corresponding requests.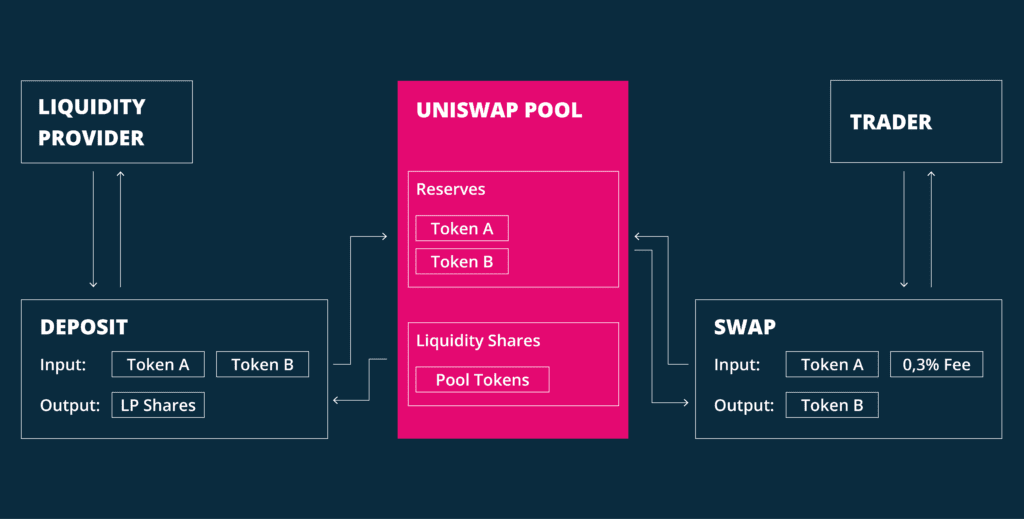 After each trade, the inventory of the individual crypto tokens in the pool is balanced and the price is automatically adjusted. However, this also means that transaction fees can vary significantly depending on liquidity. Low holdings, for example, mean high costs. Similar to the gas fee on Ethereum, the Uniswap platform charges 0.3 percent per exchange. 
The Uniswap platform is one of the most noteworthy projects in the entire crypto universe. Trading in cryptocurrencies is decentralized, automated, and thus more efficient than on central exchanges. Shortly after its launch, the UNI token got off to a strong start and, after about a year, has managed to stand its ground alongside other major coins on the crypto market. That's why we're thrilled to announce that, as of now, you can buy and sell UNI in the BISON app – the Uniswap unicorn's favorite token.