In the last few months, we've had several encounters with fraudulent platforms and fake social media profiles. These platforms or accounts pretend to be the BISON app, using the BISON logo or publishing posts in our name. These providers have no connection with us and are often using the internet with fraudulent intent.
One example of this is the company Proligon – they market themselves as working in partnership with BISON. In reality, they have no connection or official partnership with BISON. BaFin is also investigating this trading platform. More information from BaFin can be found here: https://www.bafin.de/SharedDocs/Veroeffentlichungen/DE/Verbrauchermitteilung/unerlaubte/2022/meldung_220204_proligon.html
Here are some tips on how to identify these accounts, as well as how you can help us in the fight against fake profiles and phishing emails.
Why do fake profiles exist and why are they dangerous?
It's difficult to stop fake profiles from being created. That's why you can find these accounts on almost every platform. You'll either find real people or automated bots working behind these profiles. Their objective is to collect user data and, oftentimes, use that data for fraudulent activities.
On social media, fake accounts will write directly to innocent, unsuspecting users or comment on their posts with links to third-party websites.
How can I identify fakes profiles?
At first glance, it's difficult to distinguish a profile as fake. The first clue might be a misspelling or a special character in their name. You can find BISON profiles on Instagram & Twitter under the name @bisonapp, and on Facebook & LinkedIn under the name BISON App. BISON is written in all capital letters, while App is written with a capital A.
It's also worth it to take a closer look at the information in a profile. Is the profile picture accurate? Is the link to the website legitimate?
Other clues include, for example, the pictures that are posted from the account; their newsfeed can provide valuable information for detecting a fake account. In our case, pictures that we posted on our BISON account over a longer period of time ended up being copied from our newsfeed and shared on another profile within a few days.
With that in mind, it is important to note the following:
BISON only communicates through our official email channels:

support@bisonapp.com
support@service.bisonapp.com
hallo@updates.bisonapp.com
hallo@bisonapp.com

as well as our social media channels:

@bisonapp (Instagram & Twitter)
BISON App (Facebook & LinkedIn)

BISON will never contact you through other channels, especially not publicly. Do not share any sensitive data (personal details, login information, or wallet addresses) with such accounts.
BISON will never ask you to make payment transactions to an unknown IBAN or wallet address, or ask you to send cryptocurrencies to a third party.
Official partnerships and collaborations are announced through our official channels and can be verified through our customer support via support@bisonapp.com.
What can I do about suspicious account or message?
We never post links that lead to other platforms offering any kind of crypto-related business or ask you for personal information without any reason. You should not disclose any information about yourself to these accounts and should also decline any subscription requests. If you are unsure about a message that claims to be from BISON, please contact our support team via support@bisonapp.com.
We would also like to explicitly point out that we do not communicate under the e-mail address bison@bisonbtc.com or finance@bison-reply.com!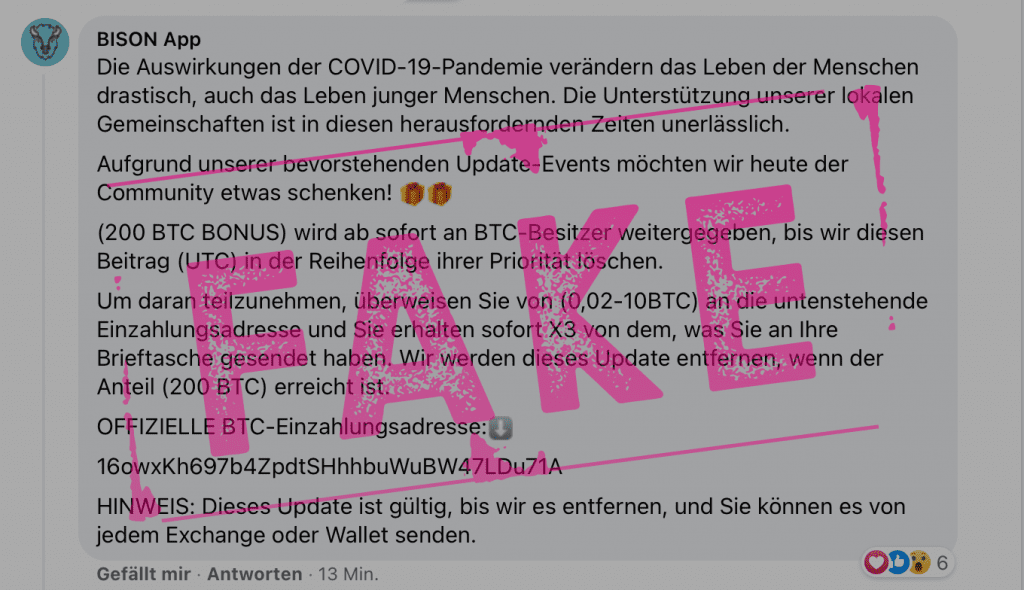 Note: If you have already clicked on a fraudulent link or made transactions to an unknown wallet address, we strongly recommend that you change your BISON password as soon as possible and contact us immediately. It is your personal decision whether or not to report the incident to your local law enforcement agency.
If you spot any suspicious emails, posts, or comments, don't hesitate to bring it to our attention. You can do so either via direct message on social media or via support@bisonapp.com.
What does BISON do about fake profiles?
As soon as we become aware of a fake profile or discover a suspicious account ourselves, we immediately delete any posts from them on our platforms. We also inform any relevant platforms about the criminal activities committed by these profiles. On top of all that, we're working hard on getting a blue verification checkmark on all our social media profiles to prevent the risk of profile confusion.
We've had several users actively support us in the fight against these fake accounts. We are proud of how the BISON herd has united and thank you for all your help and support!