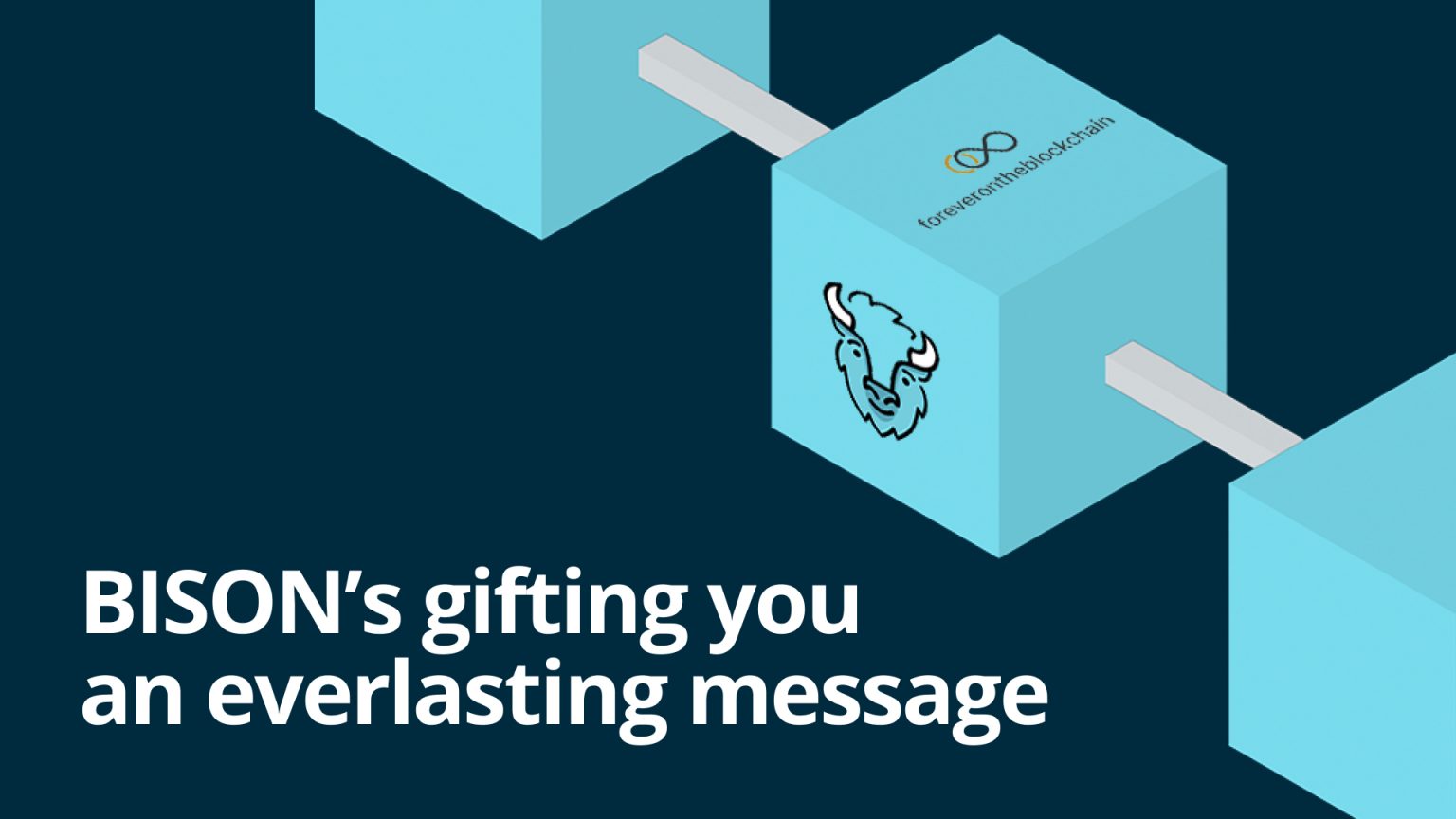 Secure your eternal message with BISON
BISON has a very special gift for you: Your own entry on the Bitcoin blockchain. We're giving away 5000 unique opportunities to place your very own and individual message on the blockchain forever. Whether it's a romantic message, your favorite joke, or a fond memory – your entry will last forever. The provider of your everlasting entry is foreverontheblockchain, launched by DLC Distributed Ledger Consulting GmbH, operating on the Bitcoin blockchain.
The following conditions of participation apply to participation in the "Eternal Message" promotion (referred to henceforth as the "promotion"). 

The organizer of this event is the EUWAX AG, Börsenstraße 4, 70174 Stuttgart, Germany.

The promotion starts on December 16th, 2021 at 00:00 and ends on January 28th, 2022 at 23:59 (promotional period). Once all of the promotional codes have been distributed, participation in this event will no longer be possible within the promotional period.

The period in which the voucher codes can be redeemed begins at the start of the promotion and ends four (4) months after the end of the promotional period.

During the promotional period, users who have reached a total trading volume of at least 1000 EUR from within BISON's online services will receive an email containing the terms and conditions for participation. It is through these terms and conditions that users will be able to receive a promotional code for an "Eternal Message" – which is an offer provided by DLC Distributed Ledger Consulting GmbH, "foreverontheblockchain", redeemable via foreverontheblockchain.com/gateway?p=bison. In order to receive the promotional code for a "foreverontheblockchain message", users are required to agree to the terms and conditions for participation by clicking on the link included in the email. After expressing their consent, users will receive a separate email containing the promotional code for a "forever message", provided that promotional codes are still available.

There are a total of 5,000 promotional codes available; these will be sent to the first 5,000 users who agree to the terms. Users will not be awarded any additional codes, other prizes, financial compensation, or other benefits, even after the total number of available vouchers has been reached.

Each BISON user can participate in this promotion only once.

Trading volume (No. 5) includes buying and selling cryptocurrencies, making savings plans, and carrying out limit orders within BISON's online services.

The following are entitled to participate in this promotion:

those who, at the time of participation, are authorized to trade using BISON's online services and are at least 18 years of age and have their permanent residence in Germany;

those who have agreed to the conditions of participation after receiving the email;

those who have received a participation email – the participation email will only be sent if a BISON user has reached a trading volume of at least 1000 EUR within the promotional period using BISON's online services, and if not all promotional codes have been sent yet. Note: By trading cryptocurrencies, participating BISON users will incur expenses.

Participation in the promotion itself is free of charge. 

Those who are employees of companies belonging to the Stuttgart Stock Exchange Group and employees of companies operating on the Stuttgart Stock Exchange, as well as their respective affiliates, are excluded from participating in the event.

In order to provide the winners with their respective promotional codes, it is necessary for us to transmit the names and email addresses of the winners to blocknox GmbH, Börsenstraße 4, 70174 Stuttgart ("blocknox") and Sowa Labs GmbH, Börsenstraße 4, 70174 Stuttgart ("sowa"), where the data will be processed for this purpose.

We would like to explicitly make clear that a promotional code will only be sent to a corresponding recipient, given that the recipient has successfully satisfied all requirements for participation (i.e. the recipient has agreed to the event's terms & conditions and is among the first 5000 individuals to participate). We do not in any way represent the foreverontheblockchain offer nor can we guarantee its availability. Any contractual relationship held by the BISON user when redeeming or using the promotional code is between the promotional code recipient and foreverontheblockchain. The organizer of this event has no influence on foreverontheblockchain's offer, its availability, or any success associated with the promotional code.

We reserve the right to exchange and replace the advertised rewards with other rewards, to change the course of the promotion or even to cancel it altogether in the event of a change in the legal situation or jurisdiction, or due to a court prohibition. The potentially already determined successful participants are, in these cases, not entitled to any claims against EUWAX AG.

We reserve the right to terminate the promotion prematurely, as well as to amend or supplement the terms and conditions of participation, provided that doing so is necessary in the interest of simple and secure processing, particularly in order to prevent misuse, and provided that this does not result in any disadvantage contrary to good faith.

All provisions are subject to and governed by the laws of the Federal Republic of Germany, excluding the UN Convention on Contracts for the International Sale of Goods and the conflict of laws provisions. The place of performance is Stuttgart.
Information on Data Protection
We take the protection of your personal data very seriously and adhere strictly to data protection regulations. The following statement will provide you with an overview of how we ensure this protection, as well as what type of data is collected and processed for what purpose relating to this competition.
Collecting, Processing, and Using Personal Data
In order to carry out the giveaway within this promotion, we use the names and email addresses entered when registering with BISON's online services. 
We also need this information in order to send relevant email notifications to users who are eligible to participate through sowa. The legal basis for this is article 6 paragraph 1b) of the GDPR. Apart from transmitting respective winner data to sowa for the purpose of providing promotional codes, no data will be passed on to third parties.
After the giveaway has been completed and the winnings have been distributed, all collected data will be deleted except for the confirmation of participation and BISON ID. Participants' personal data will remain stored, given that we have legal obligations to maintain business records. The legal basis for this is article 6 paragraph 1c) of the GDPR.
Revocations, Amendments, Corrections, and Updates
You always have the right to receive information about your stored personal data, its recipients, and the purpose of data processing. Information about stored data (article 15 of the GDPR) is provided by the data protection officer of EUWAX AG. In addition, you have the right to correct any inaccurate data (article 16 of the GDPR) and – insofar as this does not conflict with any legal obligation to retain data – to block and delete your personal data, and object to its processing (articles 17, 18, and 21 of the GDPR).
You can, at any time, revoke your consent to the processing of your personal data with future effect. A declaration of revocation does not render the processing of personal data carried out on the basis of previously declared consent unlawful. The revocation is not bound to any form. You can send your revocation to our data protection officer by email to datenschutzbeauftragter@boerse-stuttgart.de or by post to EUWAX AG, Börsenstraße 4, 70174 Stuttgart. 
To learn more about EUWAX AG's privacy policy, click here.